Mobile Aisle-Saver® Systems
Aisle-Saver's flexible design and optional features allows you to create exactly the storage and filing system your facility requires.
Product Types
Track Systems
Track capacity is designed to carry maximum loads of 1,000 lbs. per linear carriage foot.
Seismic Track Systems
Offer the same quality construction and design features as standard track systems, but are designed for application in high seismic zones.
Carriage Systems
Secured over-lapping track splice design provides positive vertical and horizontal alignment and even load transfer.
Increase Storage Capacity
The entire system compacts to optimize floor space and provides access to storage as needed. Mobile systems can help increase storage capacity by 50%!
Documents
Aisle Saver Mobile Storage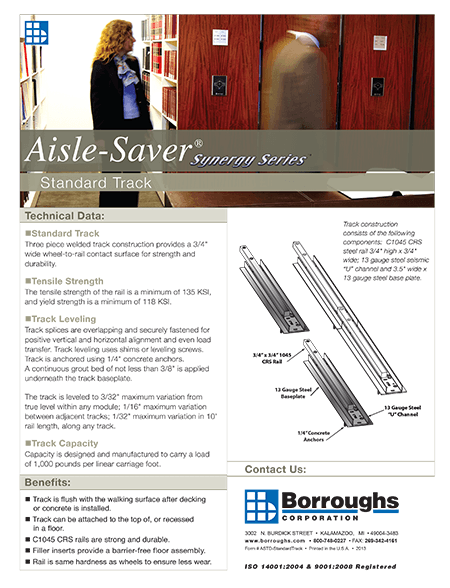 Aisle-Saver Technical Data Sheet: Standard Track
Download PDF
Aisle-Saver Technical Data Sheet: Carriage Specs
Download PDF
Aisle-Saver Technical Data Sheet: Seismic/ Anti-Tilt Tracks
Download PDF
Aisle Saver Mobile Shelving Installation Instructions
Get in touch to inquire about Mobile Aisle-Saver Systems